Membership
As the Club continues to grow, so has the membership. At the end of 2009, the Highway 43 Car Club had over 80 active members and 240 by the end of 2011.
Many of these members volunteer their time to help run our Shows and Cruise Nights.
Becoming a member of the Highway 43 Car Club is easy, all you need to do is fill out a membership form (found here, or at any of our Shows/Cruise Nights) and return it to us.
At which time you'll be given two free decals to apply to your car!
There are no fees involved, we just ask you support the club as much as you can by means of showing up to our events! Get Membership details here(link to forms)
See the Executive Members here
See the Full Membership list here
Area Car Club Events 20??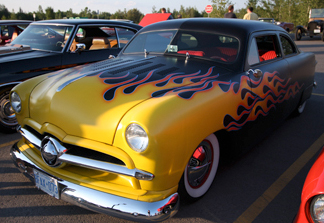 If you're one of those people who like to plan their summer in advance, these calendars are for you!
Rod Rafter (our President), Wendy Hall (Capital Corvette Club) and Roger McGetchie put these lists together and they are now a "must-have" for any Car Show go'er!
Please NOTE: All Highway 43 Club Events have been cancelled for the 2021 season again due COVID-19 concerns. Please enjoy your rides responsibly. We will see you again when its safe for all to do so.