The Idea and The Name
The Highway 43 Car Club started as a mere idea for our President, Rod Rafter.
He saw the need for a club that connects all of the small towns along the infamous Highway 43; towns such as Winchester, Chesterville, Kemptville, Merrickville, and well beyond.
Picking a name was simple, the Highway 43 Car Club was a catchy, unique name that was truly a great representation of our membership.
The Club Itself
The Highway 43 Car Club was formed over the winter of 2007/2008.
With the help of new and old friends, the club's identity came to life.
The first order of business was to get a website up and running that would be the life-line of the club.
The website would be what connects all of our members, from one end of the Highway to the other and also everything to the North and South.
On top of that, the club also resumed it's dedication of running a weekly Cruise Night in Kemptville, which has continued to grow in leaps and bounds each year.
Area Car Club Events 2020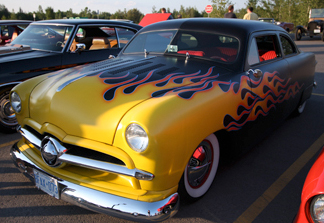 If you're one of those people who like to plan their summer in advance, these calendars are for you!
Rod Rafter (our President), Wendy Hall (Capital Corvette Club) and Roger McGetchie put these lists together and they are now a "must-have" for any Car Show go'er!
Please NOTE: CANCELLATIONS AND CHANGES TO THIS ORIGINAL POSTING ARE NOT BEING MADE HERE. See the Calendar at top for current activities.