Welcome to the Highway 43 Car Club
Based on towns along Highway 43, our car club boasts members from Kemptville, Winchester, Chesterville, Merrickville, and all across the Ottawa region. Each year, we hold a number of events all over the Region.
So stop by, become a member, meet some new friends, and most importantly...HAVE FUN.
Kemptville
Cruise Nights

2020
The Highway 43 Car Club proudly hosts the Kemptville Cruise Night every Friday.
Running from May 1 until September 25 come join us at Food Basics on Hwy 43.
Highway 43 Car Club Events
Drone Footage from Fathers Day 2016

Please read the article on our donations
to local Food banks for Christmas
Thank you to everyone who attended,
participated, volunteered,sponsored and
made ourevents great this year.
We have Friday Cruise Nights till
end of September.
Our Show Circuit this year is complete.
>
Area Car Club Events 2020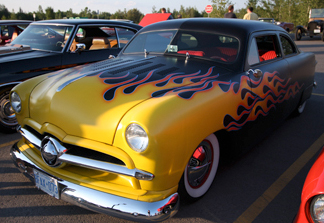 If you're one of those people who like to plan their summer in advance, these calendars are for you!
Rod Rafter (our President), Wendy Hall (Capital Corvette Club) and Roger McGetchie put these lists together and they are now a "must-have" for any Car Show go'er!
Stand by for 2020 Calendar and Events, Coming soon in 2020.