Membership
As the Club continues to grow, so has the membership.
At the end of 2009, the Highway 43 Car Club had over 80 active members and 380 by the end of 2016.
Many of these members volunteer their time to help run our Shows and Cruise Nights.
Becoming a member of the Highway 43 Car Club is easy, all you need to do is fill out a membership form (found here, or at any of our Shows/Cruise Nights) and return it to us.
There are no fees involved, we just ask you support the club as much as you can by means of showing up to our events!
Community Support
A big part of the Highway 43 Car Club's goals is to actively support charities and organizations within our community.
Since 2008, the Club has supported groups such as the Children's Wish Foundation (Ottawa Chapter), the Kemptville Youth Center, the Winchester Dairyfest Committee, and the Merrickville Youth Group, Kanata Food Cupboard, Kemptville Salvation Army Food Bank and the Dundas County Food Bank.
The Club will continue it's support for the Kanata Food Cupboard and the Kemptville Salvation Army Food Bank.
Area Car Club Events 2020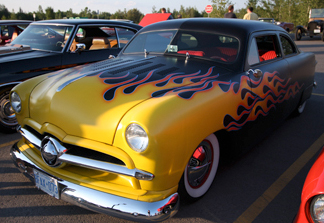 If you're one of those people who like to plan their summer in advance, these calendars are for you!
Rod Rafter (our President), Wendy Hall (Capital Corvette Club) and Roger McGetchie put these lists together and they are now a "must-have" for any Car Show go'er!
Please NOTE: CANCELLATIONS AND CHANGES TO THIS ORIGINAL POSTING ARE NOT BEING MADE HERE. See the Calendar at top for current activities.